Equipment procurement is essential to building a successful Safe Patient Handling program.
On the surface, equipment procurement would suggest purchasing patient-lift products attractive enough to entice end-users to be interested. Nevertheless, developing a procurement plan which considers many unforeseen nuances associated with the purchasing process is the most effective way to ensure maximum return on every dollar spent.
Along more general lines of thinking, organizations often approach patient-lift equipment procurement as simply a way to provide staff a suitable solution for protecting against patient handling injuries. What is typically not taken into consideration before making these type of capital equipment investments are: the functional characteristics of various types of equipment (Total Assist, Moderate Assist, and Lateral Transfer Devices), quantities needed to address average patient census, and the accessories or "slings" required to ensure mechanical lifts are consistently available for staff to use. It is essential that these considerations are applied, should a Safe Patient Handling and Mobility program stand a chance of being sustained over the long-term.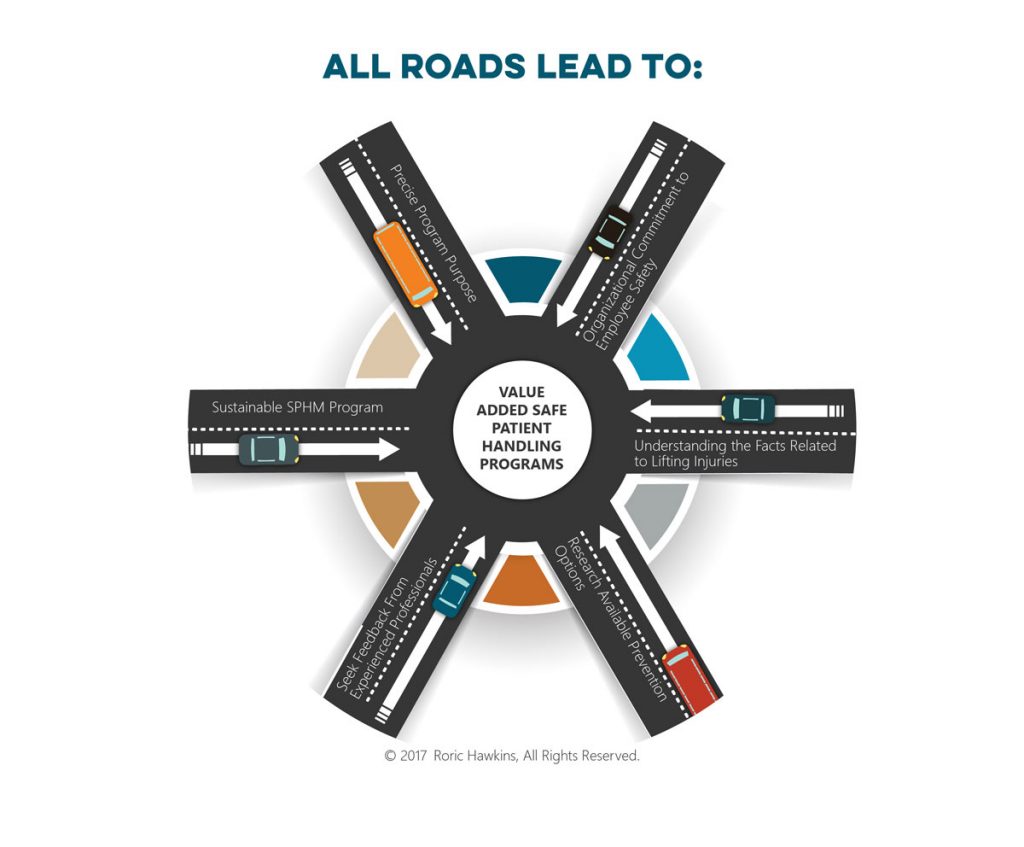 One of our main focuses or points of emphasis involves helping our clients to understand and decide what patient-lift equipment company is best suited to meet their Safe Patient Handling program needs. This is an important benefit that we offer our partners for it truly separates The RP Hawkins Group from similar competitors whose objective is to enter into exclusive partnerships or affiliations with one particular patient-lift equipment company or manufacturer. Though we believe that equipment should measure up to a certain quality and standard, our primary aim is to create and implement programs that are most likely to ensure optimal end-user utilization based on the organization's clinical culture. We specialize in providing injury prevention insights while aligning our professional services with equipment manufacturers who are capable of providing quality products to our clients.
In pursuit of decreasing employee injuries related to lifting and handling patients, a Safe Patient Handling program is more likely to be successful when patient-lift equipment is limited to 1 equipment manufacturer but certainly no more than 2 companies per implementing organization. This concept or philosophy takes into consideration the new workload requirements that this type of injury prevention program creates for hospital ancillary departments that provide support services to direct patient-care areas. Upkeep processes to include equipment maintenance, laundering, distribution, and cleaning, are simplified when product IFUs (Instructions For Use) are limited to understanding one or two company's products opposed to multiple.
The assurance that you will receive when working with The RP Hawkins Group is that our motivation is not to sell our clients patient-lift equipment. Our recommendations are based solely on assessed injury prevention needs. We specialize in strategy development while focusing our attention on implementing processes we know will work to create a successful Safe Patient Handling program.
Contact Roric to discuss how to procure patient-lift equipment for your organization.